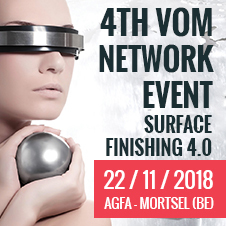 SAVE THE DATE: 4de netwerk event: SURFACE FINISHING 4.0
What added value will result from further digitisation of processes in the coating industry?
On November 22, 2018 the VOM will assemble a group of internationally renowned speakers with academic and/or industrial background at the premises of AGFA in Mortsel (Antwerp). This year we will further elaborate on the successful theme of our 2016 VOM event, "Raise your Game", i.e. explore how SME's in surface treatment can further increase their competitiveness in tomorrow's industrial environment.
This edition of the VOM Networking event will analyse how perseverance in process digitisation will enhance the productivity.
Surface finishing 4.0 looks beyond investment in ERP systems or the use of remote sensors or control instruments. It also involves a new sales paradigm. The factories of tomorrow will not just sell machines or products but generate business from total service concepts. The coating industry will deal with complete coating systems rather than with mechanical components and chemistry. Manufacturers will become providers of decentralised services, using and based on persevered digitisation.
Surface Finishing 4.0 is no fiction but a nearby reality, already building up today and without being noticed!