Our offer
VOM organizes a wide range of trainings and courses.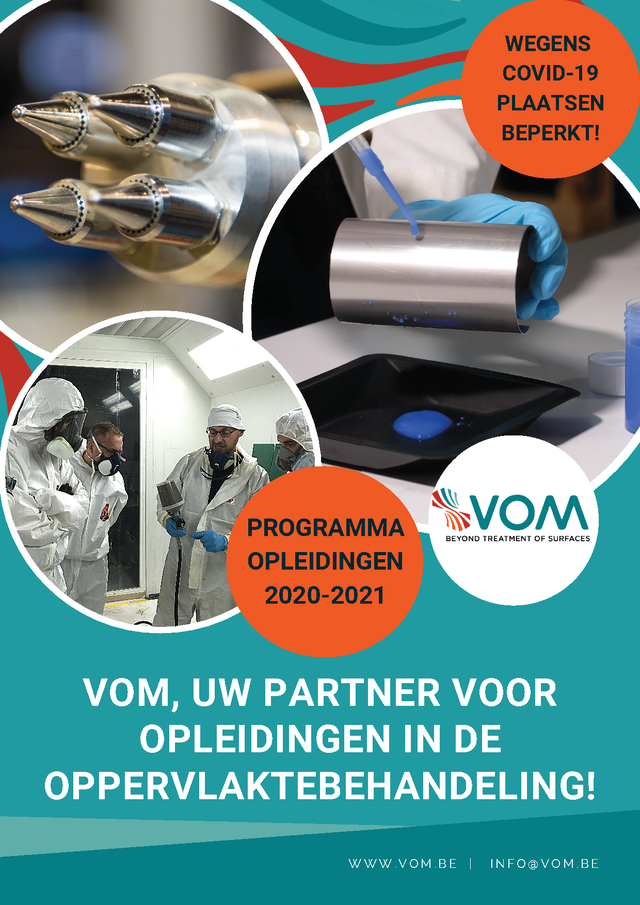 BEKIJK ONZE GLOEDNIEUWE CURSUSBROCHURE 2020-2021
De start van het nieuwe schooljaar betekent ook de start van onze vakopleidingen!
Dat wat uw medewerkers niet op de schoolbanken konden leren, staat op het leerprogramma van VOM vzw.
In bijgaande brochure, maakt u kennis met alle opleiding die op de planning staan: van de voorbehandeling tot kwaliteitscontrole en een veilige werkplek. Onze cursussen richten zich zowel naar leidinggevenden als naar operators. We bieden open opleidingen en bedrijfsopleidingen. Dus voor elk wat wils.
VOM werkt corona proof! Wees er dus snel bij want de plaatsen zijn beperkt.
Our offer
The following courses are organized on a regular base:
Waste water: by end-of-the pipe solutions to source prevention
Aluminium and surface treatment
Chemical pretreatment
Corrosion and prevention
European Thermal coater (20/03/2019 - 26/03/2019)
EN 1090 & QUALISTEELCOAT
Plating technology
Inspection of organic coatings
Mechanical pretreatment
Wet coating
Surface treatment in the aviation
Powder coating
Productivity improvements in and around the coating industry (management course 10/12/2018 - 07/02/2019)
The new EN 12944 series
Bonding and surface treatment (14/03/2019 - 28/03/2019)
Galvanizing: what and why? (14/02/2019 - 27/02/2019)
Virtual reality spray painting simulation (powder coating and wet coating) in collaboration with Green-training
Hands-on workshop "Repairing damaged coatings and refreshing coatings on aluminium"
The courses are mainly a theoretical approach of the technology. Practice trainings are usually adjusted to a company level.