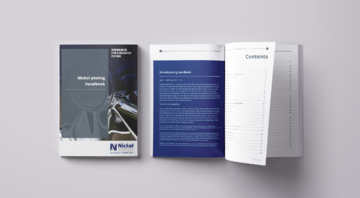 Nickel Plating Handbook - Discover and download the second edition published by the Nickel Institute
The Nickel Plating Handbook provides an overview of modern industrial nickel plating practices against a background of fundamental electrochemistry. A free, comprehensive 104-page guide to electroplating.
The Nickel Plating Handbook covers electrolyte composition, specifications for decorative coatings, technical coatings, test procedures, troubleshooting, practical advice, waste minimisation and guidance on the occupational and environmental health aspects of nickel plating. This edition includes new health and safety information and introduces a chapter on preventing the release of nickel from nickel and alloy products.

The handbook can be downloaded free of charge from the Nickel Institute's website.